We're delighted that The Flower Shops has been named as official flower supplier to the TheYachtMarket.com Southampton Boat Show running from 15-24 September.
This is the 49th year the event has been running. To be involved in such a high-profile event is a wonderful opportunity for us as we help decorate a variety of spaces – luxury yachts, corporate areas and exhibition stands. We supply flowers for a range of environments and events – offices, homes, weddings and funerals – so it's our chance to show off our skills. 
This is an arrangement we prepared for the team.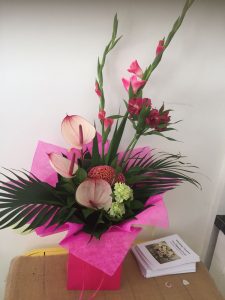 There's lots more information about the event on their website: https://southamptonboatshow.com/ 
We hope to see you there!
Creating truly special wedding flowers We've been working with happy couples in Southampton to

Read more

We had a fantastic time at TheYachtMarket.com Southampton Boat Show recently.  There was so

Read more

We're delighted that The Flower Shops has been named as official flower supplier to

Read more

At The Flower Shops we supply a wide range of funeral flowers and tributes from each of our

Read more

Are you ready for Father's Day? It's Father's Day on Sunday and we hope you have a lovely day

Read more