At The Flower Shops we supply a wide range of funeral flowers and tributes from each of our four branches in Bassett, Bitterne, Chandlers Ford, and Eastleigh.
The giving of flowers symbolises love, care, and concern and have been an important part of the funeral ritual for hundreds of years.
Flowers provide colour and scent in often very sombre environments and act as memorials to lost loved ones – providing support and comfort to families and friends.
So which funeral flowers to choose?
Lilies are a traditional choice and their distinctive scent is often associated with funeral homes. They are the flower of purity in the Christian faith and it is believed that they covered the tomb of the Virgin Mary.
Roses are another popular choice. In white they are often associated with innocence and purity and a deep red flower seems to represent love and grief.
Carnations are often seen at funerals, as they have the practical advantage of being long-lasting. Pink versions are traditionally associated with remembrance and white flowers with love.
We'll be happy to advise you at what is a difficult time.
Personal funeral flowers
As well as traditional choices, we provide very personal arrangements that reflect the life of the deceased person. Here are some varied examples of recent tributes we've been honoured to create.
Whatever you choose you'll find a caring, sensitive response from all at The Flower Shops.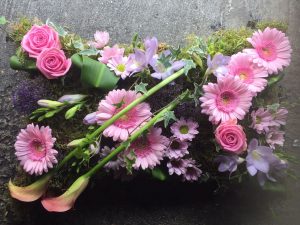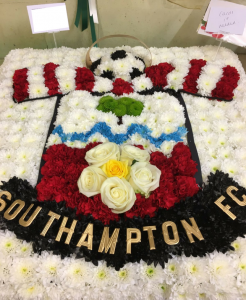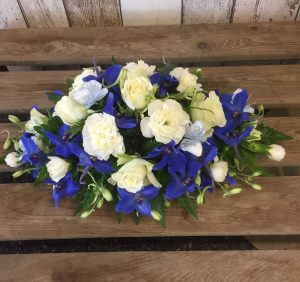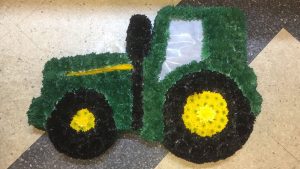 Creating truly special wedding flowers We've been working with happy couples in Southampton to

Read more

We had a fantastic time at TheYachtMarket.com Southampton Boat Show recently.  There was so

Read more

We're delighted that The Flower Shops has been named as official flower supplier to

Read more

At The Flower Shops we supply a wide range of funeral flowers and tributes from each of our

Read more

Are you ready for Father's Day? It's Father's Day on Sunday and we hope you have a lovely day

Read more